The "Old City" Band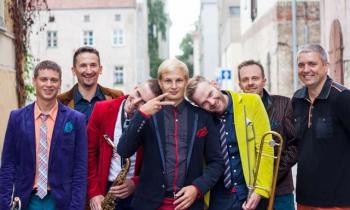 The "Old City" Band

The "Old City"is the band formed in 2009. After a year the trumpeter and vocalist were replaced and the structure of the band has remained the same ever since. Even though the band members name the year 2009 as the band's formation year, they have known each other and played both together and in other bands since their studies. The majority of the band's members have graduated from The Jazz Music Department of Klaipėda University, and only the trombonist has studied at Vilnius Music and Theatre Academy and vocalist – another sphere of music.
The band is actively performing in various events, festivities, city festivals and music clubs. The projects on Jimmy Hendrix and Red Hot Chili Peppers music, which sounds unexpectedly, performed by wind-instruments, have received exceptional attention from the listeners.
At present the band members are rehearsing and recording their own songs and here it is worth mentioning the creative impact of the trombonist VidasSaudargis. The first recorded song is already finished and played on air of some radio stations.
The band has got a wide spectrum of songs ranging from classic jazz interpretations, swing and rock'n'roll music to modern pop and rock music covers. The majority of the band's repertoire is arranged by KęstutisKaštaunasandVidasSaudargis.
In this festival the band members will present their well-performed swing, rock'n'roll and traditional jazz program.

Donatas Momkus – vocals;
DmitrijLevencov – trumpet, backingvocals;
Jordanas Narkus – tenorsaxophone, backingvocals;
Vidas Saudargis – trombone,backingvocals,
Kęstutis Kaštaunas – guitar;
Tadas Jurėnas – bassguitar;
Vidas Karnatka – drums.
Video nuorodos:
https://www.youtube.com/watch?v=407camuyv2k
https://www.youtube.com/watch?v=IUxeYw36wDw
‹ Back