Rock'n'roll band KEKSI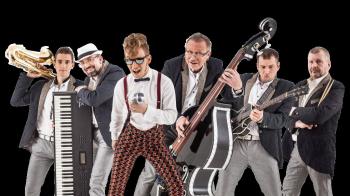 Rock'n'roll band KEKSI

Main rock'n'roll band in the Baltic States since 1997
Rock'n'roll is not only music. It's the spirit of freedom, love and sunny fifties. High quality performance from Baltic leading rock'n'roll band KEKSI will add a rock'n'roll-ish twist to a nigh in the bar, corporate event or birthday party.
Rock'n'roll band KEKSI was established 19 years ago and still now gathers full halls in their annual concert tour, as well as is beloved by numerous event organizers and bar owners. Performance of the band always means high quality authentic rock'n'roll and rock'a'billy, which brings to life even the quietest dancing floors.
Group has wide repertoire, including globally known and beloved compositions by Chuck Berry, Elvis Presley, Bill Haley, Johnny Cash, Stray Cats and others. Group consists of seven professional musicians. Vocal and backvocal are accompanied by electric guitar, keyboard or piano, double bass, tenor saxophone and drum.

Video:
https://www.youtube.com/watch?v=Z8L9SJ8iVyI
https://www.youtube.com/watch?v=C6C5JlOpjs0
https://www.youtube.com/watch?v=Ig_2TAqxfW8
‹ Back